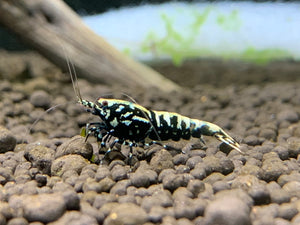 If you pick these. You will get Robi's Home Bred Version of his "Blue Boa/Snowflake" gene that he has developed for over 3 years in USA! 
please note. He is selling his gene pool. The shrimps will have the gene to produce boa and blue boa and snowflake but every shrimp is different phenotype, need to breed them out and select them for their color, pattern and size as well. 
 Size
The Shrimp can grow up to a maximum size of about 2 inches in length.
Recommended Tank Parameters
pH level range: 5.9-7.1
Temperature range: 62° to 76° F
Water type: kH 0-1; gH 4-5; TDS 105-125
BLACK GALAXY FISHBONE SHRIMP SS (PACK OF 5+1 for DOA extra)
---
We Also Recommend
---